Choosing the perfect bedroom flooring is a crucial decision that can greatly impact the overall ambience and comfort of your space. With a wide range of bedroom flooring options available, it's important to consider factors such as aesthetics, durability, maintenance, and, of course, your budget. In this blog post, we will explore some of the top choices for bedroom flooring, focusing on the below factors to help you make an informed decision that suits your needs.
5 Things to Consider When Choosing Bedroom Flooring
1. Your Budget 💰
When it comes to selecting the right flooring for your bedroom, budget is one of the most important factors. While you want good quality flooring that is going to last, it's also important to find something that fits within your budget. There are so many flooring options out there of all different styles so it shouldn't be too tricky to get what you're looking for, within your budget.
2. Aesthetics 👕👚
The look and style you want for your bedroom flooring should also be considered, as it can greatly impact the overall aesthetic of your room. There are a variety of flooring options available that can complement any design style, from modern and minimalist to rustic and traditional.
3. Durability 🧰
When selecting bedroom flooring, it's crucial to factor in durability to maintain its pristine appearance over time. Although bedrooms typically experience less foot traffic compared to high-traffic areas like hallways or kitchens, it's still essential to prioritise the longevity of your chosen flooring material. By considering the durability of your bedroom flooring, you can ensure that it meets your standards and remains in excellent condition for years to come.
4. Maintenance 🛠
Constantly cleaning and maintaining flooring isn't high up on anyone's list of things to do. Therefore, it is important to choose bedroom flooring that is fairly easy to maintain and doesn't require constant upkeep, especially if you are choosing flooring for a child's bedroom.
Top 5 Flooring Options for Bedrooms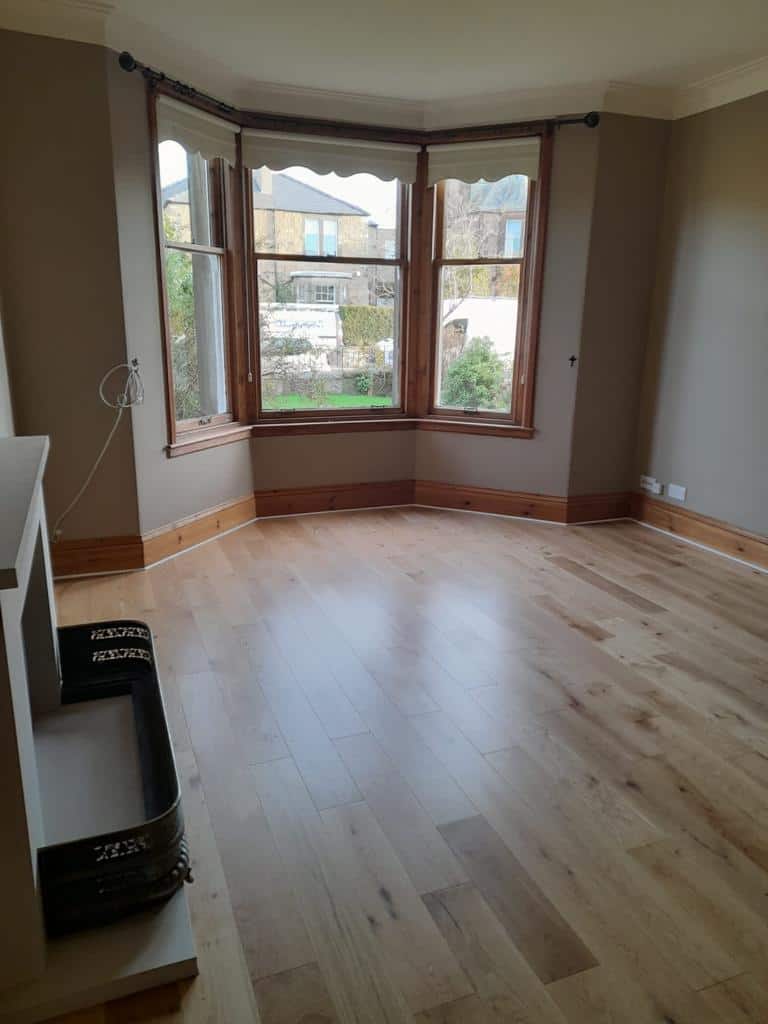 1. Wool Carpet for Bedroom Flooring – Luxurious and Comfortable
When it comes to creating a warm and inviting atmosphere in your bedroom, wool carpet is the epitome of luxury. It offers exceptional softness, insulation, and sound-absorbing properties, making it an excellent choice for bedroom flooring. Not only does wool carpet provide comfort underfoot, but it also adds an elegant touch to your space. Additionally, wool carpet is durable, flame-resistant, and sustainable, making it an ideal flooring option for those seeking both luxury and eco-friendliness. Something to keep in mind is that wool carpet is usually on the pricier side of things. Additionally, although wool is naturally stain resistant it is not as stain-repellant as non-natural carpets and flooring.
2. 80/20 Wool Carpet for Bedrooms – The Perfect Blend
If you desire the luxurious feel of wool carpet while keeping an eye on your budget, consider the 80/20 wool carpet for your bedroom. This carpet is made from a blend of 80% wool and 20% synthetic fibres, combining the natural benefits of wool with the added strength and durability of synthetic materials. The 80/20 wool carpet offers a soft and comfortable feel underfoot, while its resistance to wear ensures longevity and practicality, making it an excellent choice for bedroom flooring.
3. Polypropylene Carpet for Bedrooms – Affordable and Practical
For those looking for an affordable and practical flooring solution for their bedrooms, a polypropylene carpet is a great option. Polypropylene is a synthetic material known for its durability and stain resistance. This type of carpet is perfect for bedrooms where spills or accidents may occur frequently as a lot of polypropylene carpets are bleach cleanable. Not only is polypropylene carpet easy to clean and maintain, but it also resists fading, making it suitable for bedrooms exposed to harsh sunlight. Though it may not offer the same luxury as wool carpet, it provides comfort and affordability for your bedroom flooring needs. One thing to note with this type of carpet is it can flatten over time, more so than wool or 80/20 carpets. This is less of a problem in low footfall areas such as bedrooms but is something to keep in mind.
4. Hardwood Flooring for Bedrooms – Timeless Elegance
When it comes to creating a classic and timeless look for your bedroom, hardwood flooring is an excellent choice. Known for its natural beauty and durability, hardwood flooring adds warmth and sophistication to any space. With various finishes, wood types, and colours available, you can select the perfect style to complement your bedroom decor. Hardwood flooring is extremely durable when maintained properly. However, the maintenance of hardwood flooring is more complex than that of carpet which is something to consider. Check out our blog on how to maintain hardwood flooring to get a better sense of upkeep and maintenance. Or perhaps choose luxury vinyl tiles (LVT) for your bedroom. Click HERE to see whether wood or LVT flooring is best for you.
5. Laminate Flooring for Bedrooms – Modern Simplicity
Laminate flooring is a versatile and cost-effective alternative that can replicate the appearance of hardwood, tile, or stone. It offers a wide range of design options, allowing you to achieve the desired aesthetic for your bedroom. Laminate flooring is known for its scratch resistance. It is also relatively low maintenance and easy to clean, making it suitable for busy bedrooms or those with pets. It may not be as durable as hardwood flooring or wool carpet but it is a great low-cost option. Choose laminate flooring to achieve a modern and simplistic look for your bedroom.
The Best Bedroom Flooring for You
Selecting the best flooring for your bedroom is a decision that should consider your personal style, comfort preferences, and practicality. Whether you opt for the luxurious softness of wool carpet, the affordability and resilience of polypropylene carpet, the timeless elegance of hardwood flooring, or the modern simplicity of laminate flooring, there is a perfect option to suit your needs. By considering the aesthetics, durability, maintenance, and budget, you will get the bedroom flooring that's right for you.
Get in touch to organise a free at-home visit or pop into one of our stores located around Edinburgh in Portobello, Morningside, Corstorphine, Newtongrange, Fenton Barns and Galashiels.