At Kristoffersen Carpets, we specialise in completely transforming your home, and our latest project is a perfect example of our expertise. Combining the beauty of Amtico Spacia with our skilled luxury vinyl tile (LVT) installers, is a recipe for success. Before delving into the intricate details, let's first admire the stunning final result completed by our fantastic fitters Gary and Liam.
The Amtico Spacia Flooring Range
When it comes to enhancing the beauty and functionality of your home, flooring plays a crucial role. The Amtico Spacia Range has been gaining popularity for its exceptional quality, durability, and aesthetic appeal . Renowned for its ability to effortlessly blend style and practicality, Amtico Spacia offers a vast array of design options to suit any interior space.
Some of the highlights from the Amtico Spacia Collection are…
A 0.55 Wear Layer – This long-lasting wear layer increasing the floorings durability.
94 Designs – A total of 94 wood and stone desings meaning there is something for EVERYONE!
Two Parquet Sizes – making this range extremely versatile
With the Amtico Spacia range you also get all the additional benefits that come with Amtico flooring and LVT in general. Want to know more about LVT? CLICK HERE.
Interested in other Amtico Flooring ranges? We've got you covered! Check out our blog post on Amtico Decor and Amtico Herringbone or go to their website for more details. Kristoffersen Carpets and Flooring is an Amtico Premium retailer, meaning we offer the most extensive in-store displays to help you envision your ideal flooring.
Amtico Spacia Amalfi: The Chosen Flooring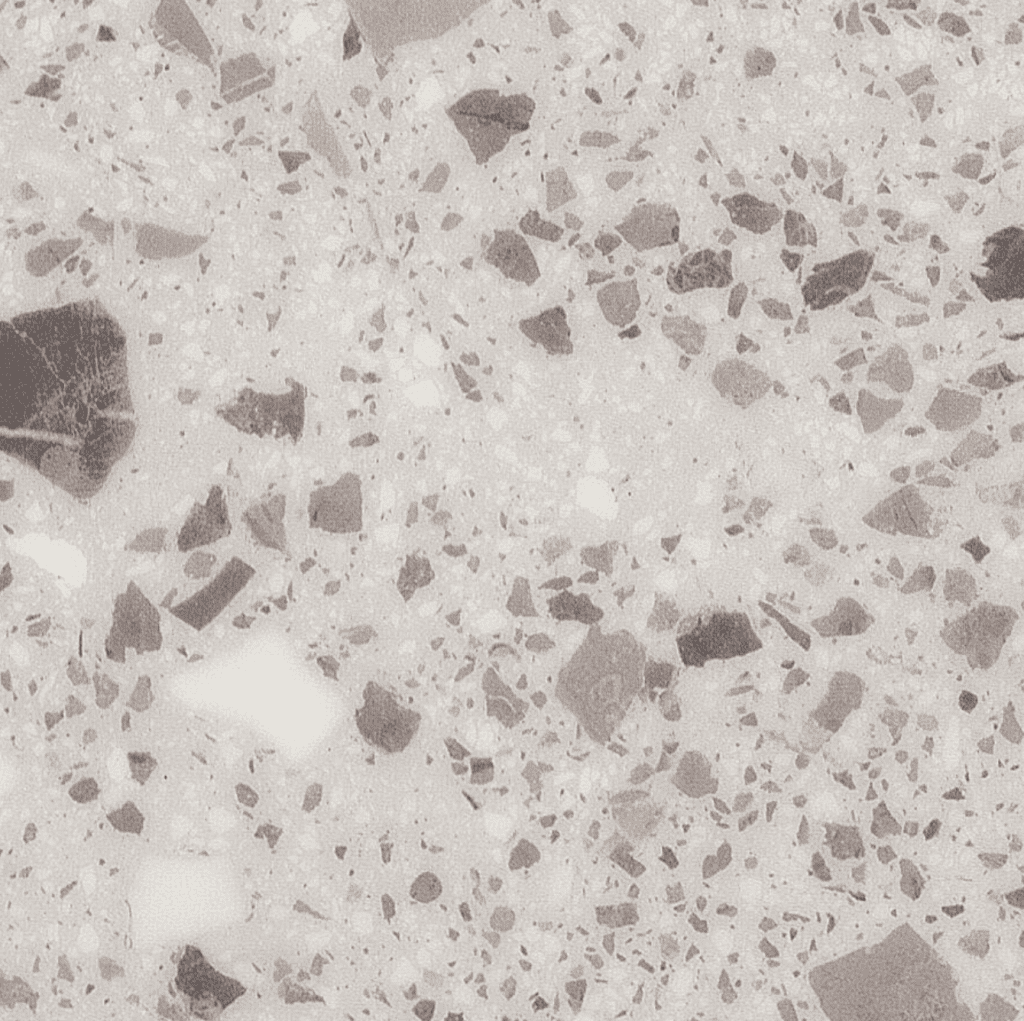 The specific product used in the project was Amalfi from the Amtico Spacia Range (Product code: SS5S2609). Amalfi features a light concrete base embellished with scattered earthy coloured chips.
Laying the Ground Work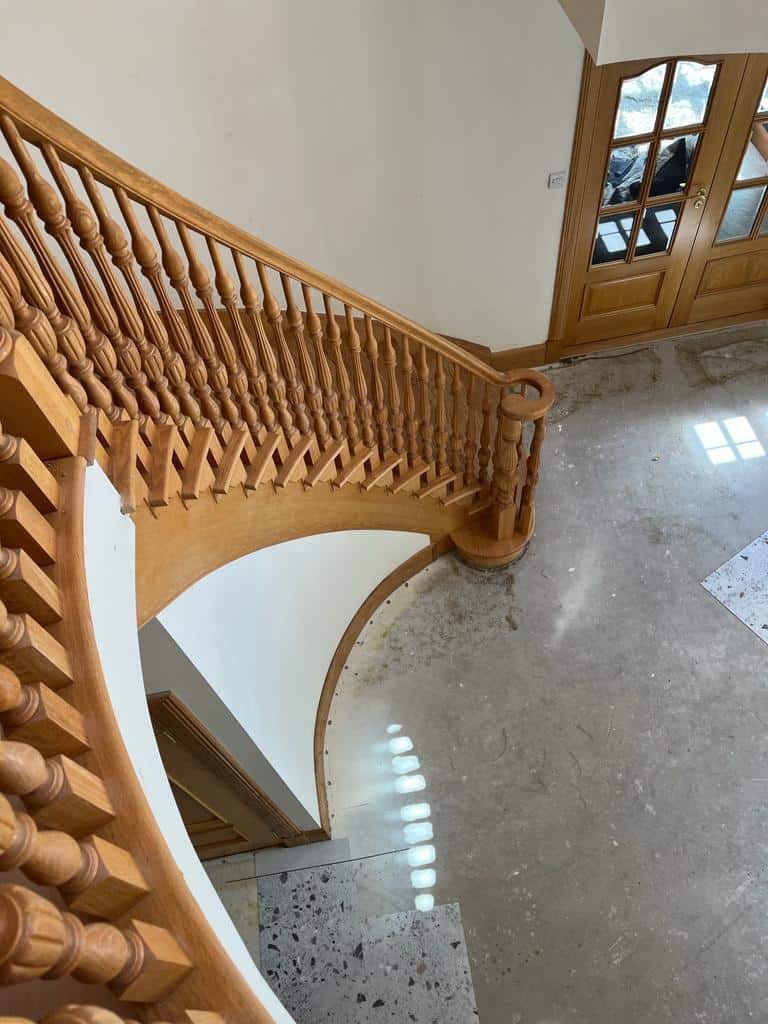 Before laying any of the Amtico Spacia flooring, we needed to ensure the subfloor was up to scratch. As with any LVT job the subfloor needs to be properly prepared.
At Kristoffersen Carpets & Flooring, we prioritise the longevity and quality of your flooring. That's why we utilise a minimum of 9mm gauge SP101 plywood, securely fastened to the existing floor. You can see how this looks in the picture above! This method ensures that your flooring will remain solid and smooth for years to come.
If you want to know more about the subfloor preparations, check out our LVT page for a more detailed insight or chat to one of our knowledgeable shop managers in store today!
Once we had prepared the job our amazing fitters were ready to start laying the beautiful Amtico Spacia.
Fitting and Shaping Amtico Spacia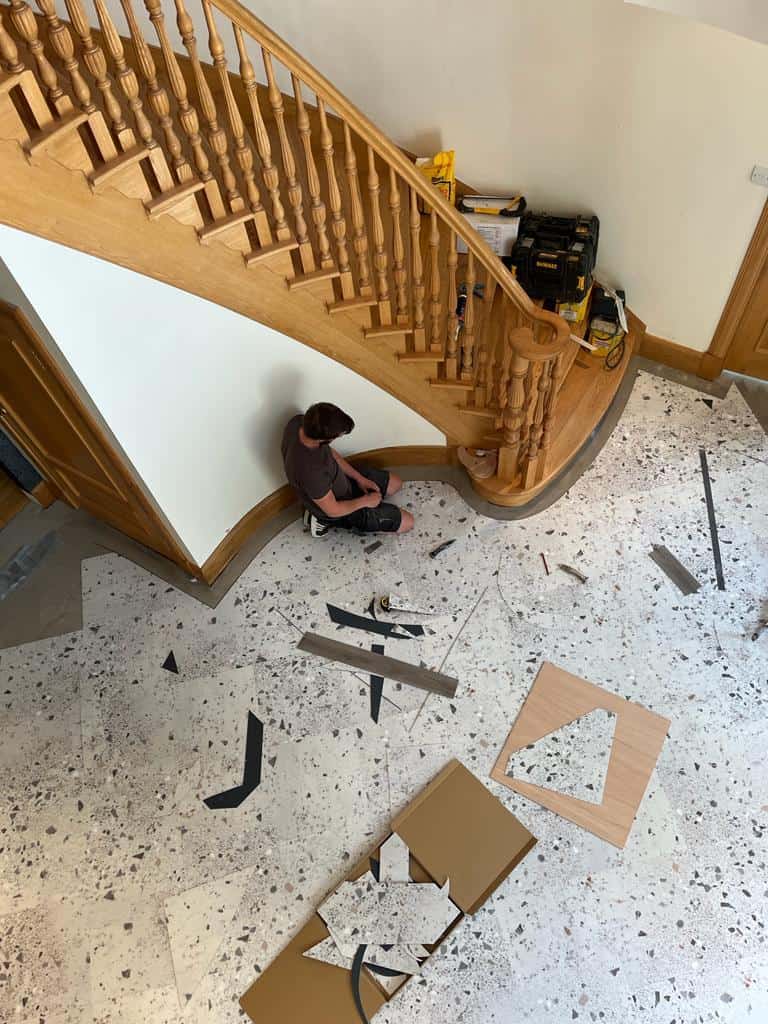 Our expert fitters make fitting Amtico Spacia look easy! After preparing the subfloor the team got to work in fitting the majority of the flooring. However, as you can see in the video, the customer wanted to add an extra detail to their Amtico Spacia flooring… a border!
One of the benefits of Amtico Spacia (and LVT in general) is it's versatility. You can really make a space your own using LVT design strips. These decorative strips offer endless possibilities for customisation and personalisation, allowing you to create unique and eye-catching designs. This customer chose to add a border throughout her home and we feel it gives it such a timeless look. Whether you want to add a touch of elegance, create a focal point, or define different areas within a space, LVT design strips provide a versatile solution. Design strips also offer practical benefits such as hiding seams and providing additional durability.
Looking for something similar?
Looking for something similar to this project? Or want to explore the Amtico Spacia range further in store? Come into one of our stores located in Morningside, Corstorphine, Newtongrange, Portobello, Galashiels and Fenton Barns. Alternatively, give your local store a call or arrange an at-home visit to bring our store to you!
We look forward to hearing from you!