Engineered wood flooring or luxury vinyl tile (LVT) flooring? This is a question we are asked regularly in-store. As with all flooring choices, both options have their unique advantages, so it ultimately comes down to your personal preferences and needs.
Engineered Wood Flooring
Wood flooring gives your home a timeless look, and if looked after correctly, can out-last any other hard floor. One popular choice for wood flooring is Kahrs wood flooring. Here at Kristoffersen Carpets and Flooring we stock and fit Kahrs wood flooring allowing for a smooth process from buying to fitting. Kahrs is a reputable brand known for producing high-quality, durable hardwood flooring that can add individuality and beauty to any room.
Their engineered wood flooring is made from multiple layers of wood, making it more stable and resistant to changes in temperature and humidity than other types of wood flooring. Additionally, Kahrs wood flooring is compatible with underfloor heating, keeping your home warm all year round.
Kahrs, as well as other manufacturers, tend to offer a range of finishes from smooth lacquer, brushed and lacquered, brushed and oiled, and smooth oiled.
The advantage of lacquered wood is that it comes sealed by the manufacturer and is ready to be used immediately. With the oiled boards, the manufacturers will often recommend adding a final coating of oil once the flooring is laid, to help protect your floor for longer.
Whilst we admit this is a little more work, it does allow you the ability to patch-repair your floor if a small scratch or stain was to appear by sanding, re-oiling and staining if need be. We have repair kits from Kahrs readily available if you ever need to borrow after purchasing an engineered wood floor covering from us.
No mater what finish you choose, Kahrs flooring is durable. When properly installed and maintained, engineered wood flooring can last for decades, making it a great long-term investment in your home. Here at Kristoffersens, we have experienced fitters you can count on to install your engineered wood flooring to the highest standard.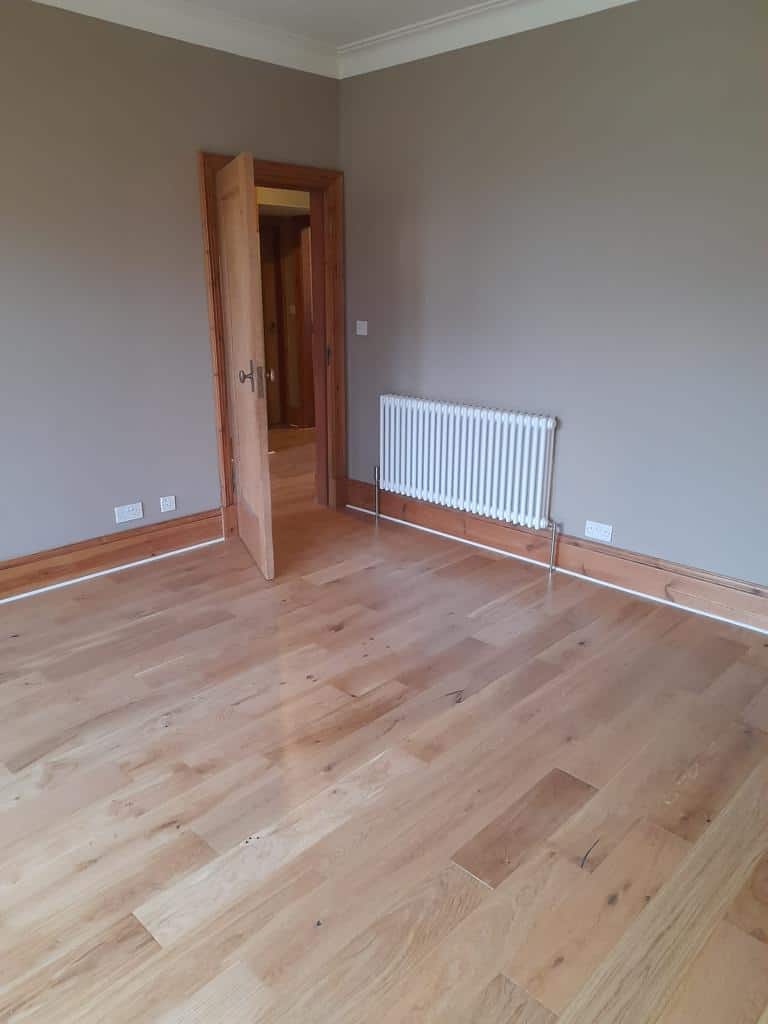 Luxury Vinyl Tiles (LVT) Flooring
On the other hand, LVT flooring is also a great option for your home. LVT flooring is becoming increasingly popular with homeowners and here at Kristoffersen's we work with all the leading LVT flooring manufacturers and have specialist LVT flooring fitters ready to make your dream floor a reality.
LVT flooring can mimic the look of natural wood or stone but provides many practical benefits. We find that LVT is a more popular choice for young families and pets. LVT flooring is not scratch-proof, but won't scratch as easily as engineered wood. LVT flooring is also one of the most water-resistant flooring coverings on offer, making it perfect for busy households. It's also easy to maintain, unlike wood flooring which needs sanding and refinishing from time to time, LVT flooring can be easily cleaned with a damp mop or cloth.
Another thing to consider when choosing your flooring is budget. LVT flooring is usually less expensive than engineered wood flooring. However, prices do vary so make sure to come into one of our shops or contact our at-home service for a more accurate estimate of the costs.
Anything else?
Finally, something else to consider when deciding between engineered wood flooring and LVT flooring are the skirting boards in your home. If you decide to go with the engineered wood flooring, despite being on average 75% more stable than solid wood, it will still expand and contract with the atmosphere in your home. This results in the need for an expansion gap around the perimeter of the room.
This gap can be covered with a small wooden bead around the base of the skirting, or by removing the skirting and refitting on top after the engineered wood flooring has been laid. This is something worth considering as with some of the older properties in and around Edinburgh, the skirtings can be difficult and messy to remove and sometimes will need to be replaced altogether.
If this is a concern for you, another benefit of the glue-down LVT is the fact it does not require an expansion gap, and therefore does not require us to interfere with your skirtings during installation.
Engineered Wood Flooring or LVT Flooring?
In conclusion, whether you choose engineered wood flooring (e.g., Kahrs wood flooring) or LVT flooring depends on your specific needs and preferences. Both options offer great benefits and can add value to your home. Any of our shop managers would be more than happy to discuss your options and visions for your home to help you decide. All our shops stock both engineered wood flooring and LVT flooring and have samples in-house. We can then take care of the rest and organise a free measure-up of your space and estimate the costs for you.