Are you in the market for some new flooring? Looking into Luxury Vinyl Tiles (LVT)? Karndean Flooring could be what you're looking for. Kardean Design flooring is a popular choice among homeowners. It is made from vinyl that mimics the natural look of wood or stone, without the hefty cost and maintenance. But that's not all – Karndean flooring offers a range of benefits that make it an excellent choice for anyone seeking versatile and easy-to-maintain flooring.
If you're looking for a Karndean flooring stockist in Edinburgh look no further than Kristoffersen Carpets and Flooring. With 30 years of experience in the flooring industry and specialist LVT fitters we have the skills and experience to help your dreams become a reality.
One of the benefits of Karndean flooring is its versatility. With a wide range of styles, colors, and patterns to choose from, you can easily find the perfect fit for your home decor. Karndean flooring also comes in different sizes and shapes, giving you the flexibility to create unique designs and patterns. Whether you want a rustic look or a modern and sleek feel, Karndean flooring can deliver.

One of the standout benefits of Karndean flooring is its exceptional durability. Made from Luxury Vinyl Tile (LVT), this type of flooring is incredibly resilient and water-resistant, requiring minimal maintenance. This makes it an ideal choice for busy households where durability is a must-have. In particular, Karndean flooring is an excellent option for kitchen flooring as it is not susceptible to moisture damage like wood flooring. It's no wonder why more and more homeowners are opting for Karndean flooring in their kitchens! Don't just take our word for it, take a look at this new development in Edinburgh that chose Karndean flooring for their kitchens and living spaces.
Karndean Flooring for New Development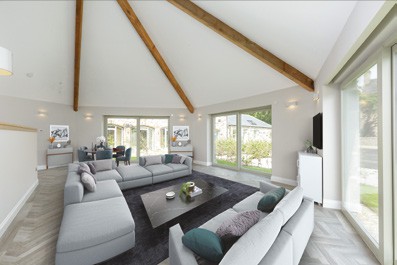 Winthrop builders contracted Kristoffersen carpets to lay Karndean throughout 5 homes at their Brunstane development in Edinburgh.
Take a look at what's possible with Karndean herringbone and our fantastic team of fitters.
Look at these truly amazing results with Van Gogh and Knight Tile products from the Karndean flooring ranges.
Luxury vinyl tiles are the perfect solution for modern living. Durable, versatile and wonderful looking spaces can be created. Just look at these superb rooms at Brunstane Home Farm steading on the outskirts of Edinburgh.
This exclusive development with underfloor heating throughout was the perfect place to showcase the fitting talents at Kristoffersen Carpets and Flooring.
Using Karndean herringbone styles in grey or more traditional oak, you can see that these luxury vinyl tiles are perfect for the kitchen and bathroom but can actually be fitted anywhere in the home.
Karndean flooring comes in such a huge range of styles and finishes that you're bound to find something that complements your home. From distressed oak or walnut with textured surfaces to ultra-modern and chic tiles in a selection of sizes, you'll be spoilt for choice.
And you can also individualise your Karndean flooring design. Tiles and wood plank effects can be enhanced by fitting feature strips or by laying the products in your own particular way. We've already shown what a great effect Karndean Herringbone can have. But you also can lay standard planks at 45 degrees, brick-bond your tiles, and also create bespoke borders.
Drop-in at any of our showrooms and our expert managers will be delighted to chat over your plans and explain what's possible. You really will be amazed.
More Karndean Flooring From This Amazing New Development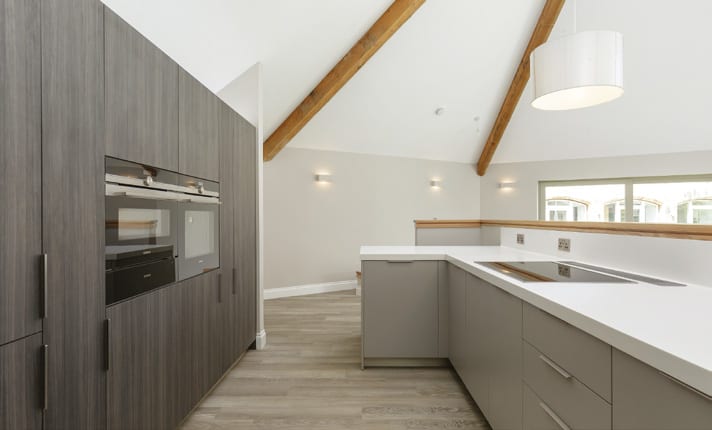 So if you're interested in Karndean for your home, get in touch with Kristoffersen Carpets and Flooring or pop into one of our stores located in Morningside, Corstorphine, Portobello, Newtongrange, Fenton Barns and Galashiels.