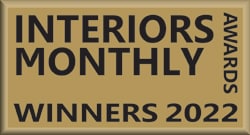 Kristoffersen Carpets wins major award.
Kristoffersen Carpets has won the prestigious Interiors Monthly – Flooring Retailer of the Year competition for 2022. This highly sought-after UK-wide award is a major coup for the Scottish flooring company who opened their first store in Edinburgh in 1993. Now with six outlets covering Scotland, the focus remains on customer service and providing a local High Street alternative to anonymous out-of-town superstores.
Norrie Kristoffersen was the man with the original vision. We asked him what made the high street an attractive proposition. "We've always been keen to focus on customer relationships, and we felt local, friendly high street stores were central to that. Local shops are more than somewhere where you buy something. They're part of the community. We know we're primarily here to help people get the floor of their dreams, but if we can do it with a smile and a chat as part of the service, that's great. Kristoffersen Carpets has always been about the personal touch. Client relationships are central to everything we do. And that's remained the case right through the nearly 30 years we've been in business.
We want everyone to be delighted with their new floor. And we achieve that by having the most knowledgeable and helpful staff, working with the best value, top quality products from luxury vinyl tiles to natural flooring, wool and man-made finishes and real wood. That's how we get our delighted customers to spread the word."
Each store is managed by an experienced professional dedicated to making their customers' vision a reality. Steve Porteous has recently joined the team as manager of the original Portobello store. He comes from the area and sees his store as a part of the local community. Steve sums up the Kristoffersen way: "Whether you're in the market for a new floor or passing by, we're always happy to see you."
Chris Stevens is sales manager based in the new store at Fenton Barns in East Lothian. "Everything we do is customer-focused. We want each shop to be unique and we give our managers freedom to select what they think will suit their customers best. And in the background, we're continually improving our systems so that the customer experience is seamless and simple."
Customer service. From beginning to end, that's the award-winning philosophy at Kristoffersen Carpets.