Alternative Flooring is a British company that specialises in unique and innovative flooring designs. They offer a wide range of flooring options, including carpets, runners, rugs and natural flooring materials like sisal, seagrass and jute.
What Makes Alternative Flooring Stand Out?
Alternative Flooring are known for their high-quality carpets with bold patterns and bright colours. If you're looking for something unique and eye-catching, Alternative Flooring is for you. Check out some of these stair carpet runners from Alternative Flooring that we fitted for our customers.
With an abundance of patterns and colours, you'll easily find something that fits with your home while also standing out. The majority of their carpets are either 100% or 80% wool meaning they are long lasting and perfect for high footfall areas in your home where they can be admired by all.
Alternative Flooring Natural Carpet Collection
Sisal Carpet
In addition to bright patterns and colours, Alternative Flooring are also known for their natural carpet collection. The most popular of this range is their sisal carpet. When it comes to transforming the ambiance and adding a touch of natural sophistication to your space, few options rival the beauty and durability of sisal carpet. As a premium flooring brand, Alternative Flooring has been captivating interior design enthusiasts with their exquisite range of sisal carpets.
Alternative Flooring's sisal carpet is renowned for its natural asethitci appeal, bringing a sense of rustic charm and organic beauty to any room. Derived from the agave plant, sisal fibres offer a unique visual texture that complements both traditional and contemporary designs. Sisal carpet is an ideal choice for those seeking a cozy and stylish flooring option.
In today's environmentally conscious world, Alternative Flooring's sisal carpet stands out as an eco-friendly flooring solution. Sisal fibres are biodegradable and renewable, making them a sustainable choice for conscious consumers. By opting for sisal carpet, you can contribute to the reduction of carbon footprint while enjoying the luxurious feel of a natural and ethically sources material.
One of the key reasons sisal carpet from Alternative Flooring has gained popularity is its exceptional durability. Sisal fibers are inherently robust and resistant to wear and tear, making them an ideal choice for high-traffic areas in both residential and commercials spaces. Whether it's a bustling hallway or a busy office space, sisal carpet can withstand heavy foot traffic while maintaining its beauty for years to come.
For individuals with allergies or sensitivities, sisal carpet is an excellent option. The natural fibres repel dust mites and other allergens, ensuring a healthy indoor environment. Additionally sisal carpet requires minimal maintenance. Regular vacuuming and occasional spot cleaning are usually sufficient to keep it looking fresh and vibrant. However, it is important to avoid excessive moisture, as sisal is not suitable for wet areas.
Sisal Stair Runner
As the popularity of stair runners increase many homeowners are choosing a sisal stair runner to revamp their stairs. A sisal stair runner can bring a real elegant feel to your home and many choose the reputable Alternative Flooring sisal carpets to create this vision.
Check out some of these sisal stair runner recently completed for a customer by our amazing team of fitters specialised in this type of flooring.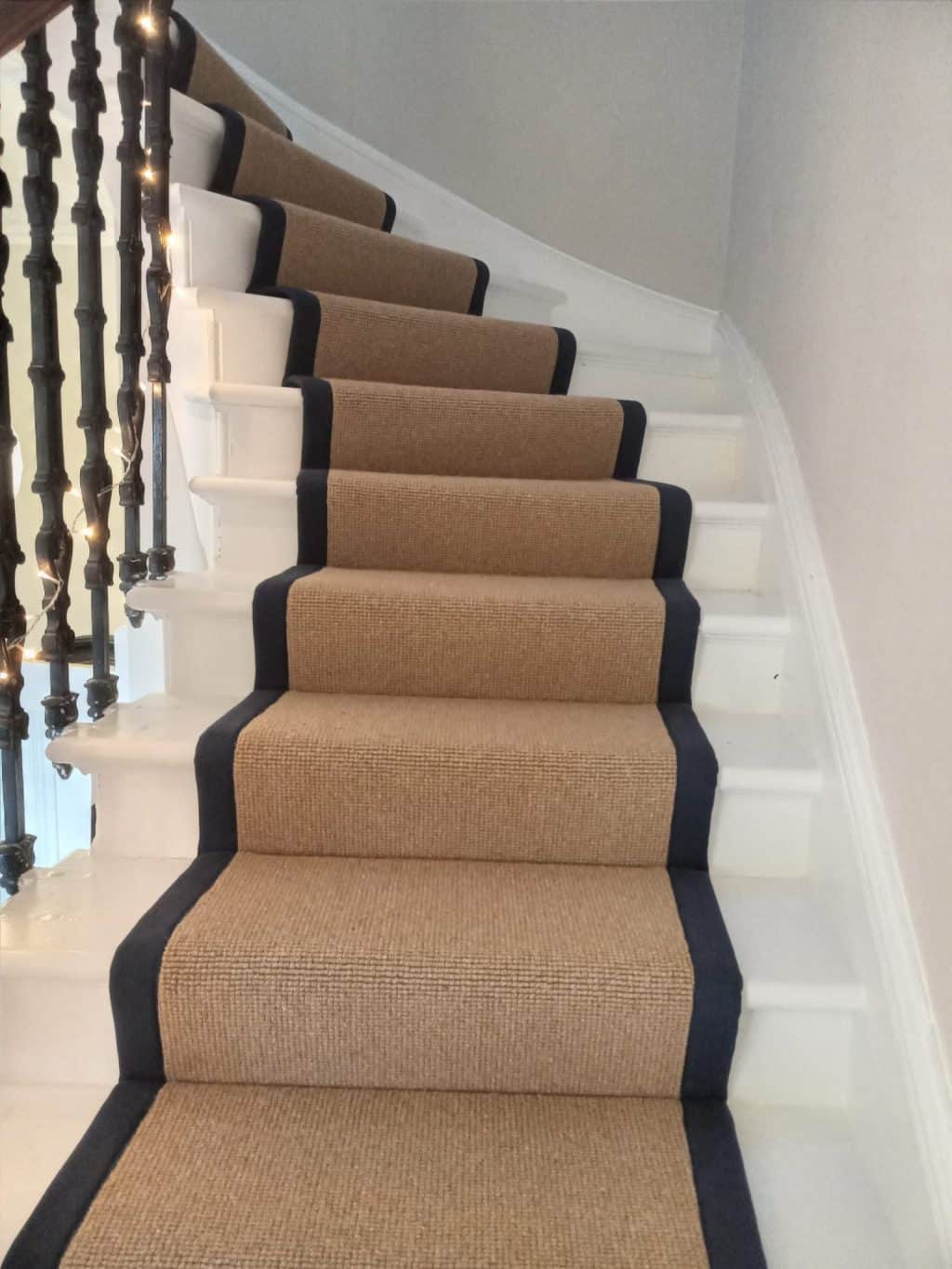 Are you looking for a sisal stair runner? Here at Kristoffersen Carpets, we can give you the utmost creative control with our in-house binding and whipping service allowing you to choose the colour of the binding/whipping of your sisal stair runner creating a bespoke runner for your home.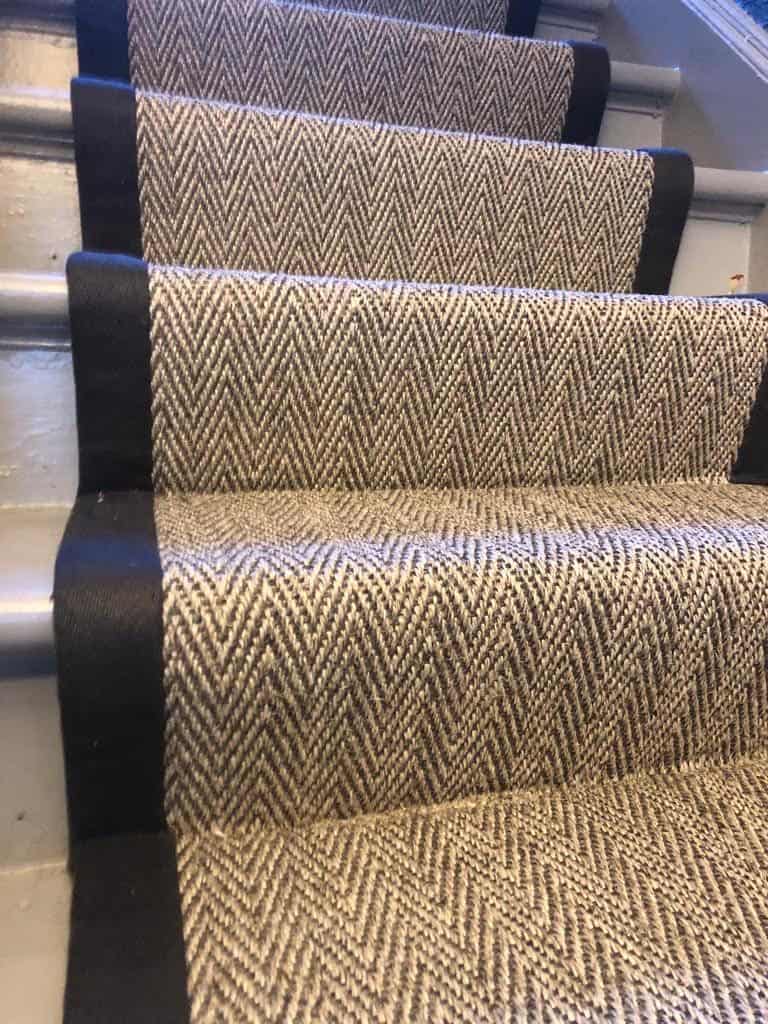 Is Alternative Flooring Sustainable?
Due to their use of natural renewable sources for their carpets such as sisal and wool, Alternative Flooring is a good option for those looking for a sustainable flooring option. Additionally, they help support projects which help the planet like supporting local re-planting of sisal in areas of Madagascar. Take a look at their Ecologi profile for more information.
Bespoke Design Services
Alternative Flooring also offers bespoke design services, allowing customers to create custom rugs and runners to fit their specific needs and design preferences. This level of personalisation is not often seen in the flooring industry and is a testament to Alternative Flooring's commitment to customer satisfaction. If you want a further look at these services, check out the Make Me A Rug page on their website.
Alternative Flooring Edinburgh
Overall, Alternative Flooring is an excellent choice for those looking for unique and sustainable flooring options. Their commitment to quality and customer satisfaction, coupled with their innovative designs, make them a standout brand in the flooring industry. If you're looking to add a touch of personality and sustainability to your home, Alternative Flooring is worth considering.
Pop into one of our stores to browse samples in person and speak with one of our knowledgeable shop managers who can make your dreams a reality.